West Yorkshire needs to stay strong and work together to bring the rate of infection down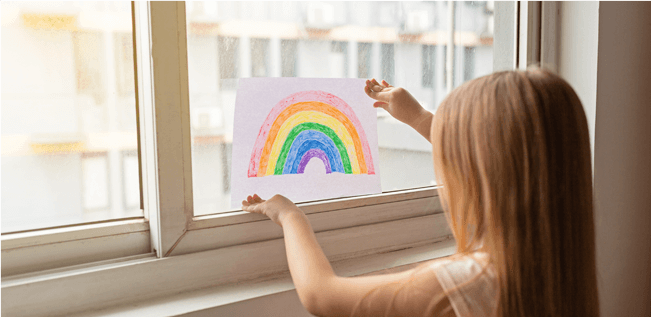 As West Yorkshire prepares to move into the next – and currently most severe – tier of restrictions, the region's Local Resilience Forum is repeating calls for people to work together, not give up and take responsibility for doing everything possible to reduce the rate of COVID-19 infections in the region.
Following in-depth talks between West Yorkshire leaders and the Cabinet office, the whole of the region will be required to follow new restrictions under 'Tier 3 – Very high alert level', from 00.01 on Monday 2 November.
Tim Kingsman, co-Chair of West Yorkshire Prepared and Assistant Chief Constable of West Yorkshire Police, said: "As infection rates increase across the entire country, we really need everyone to continue doing everything they possibly can to help reduce the number of cases. We know this is a difficult situation – and the longer it goes on, the more fatigued people are becoming with the restrictions – but it's incredibly important we all take responsibility for our actions in order to protect ourselves, families, neighbours and wider communities."
Under the new restrictions, people in West Yorkshire should observe the following restrictions: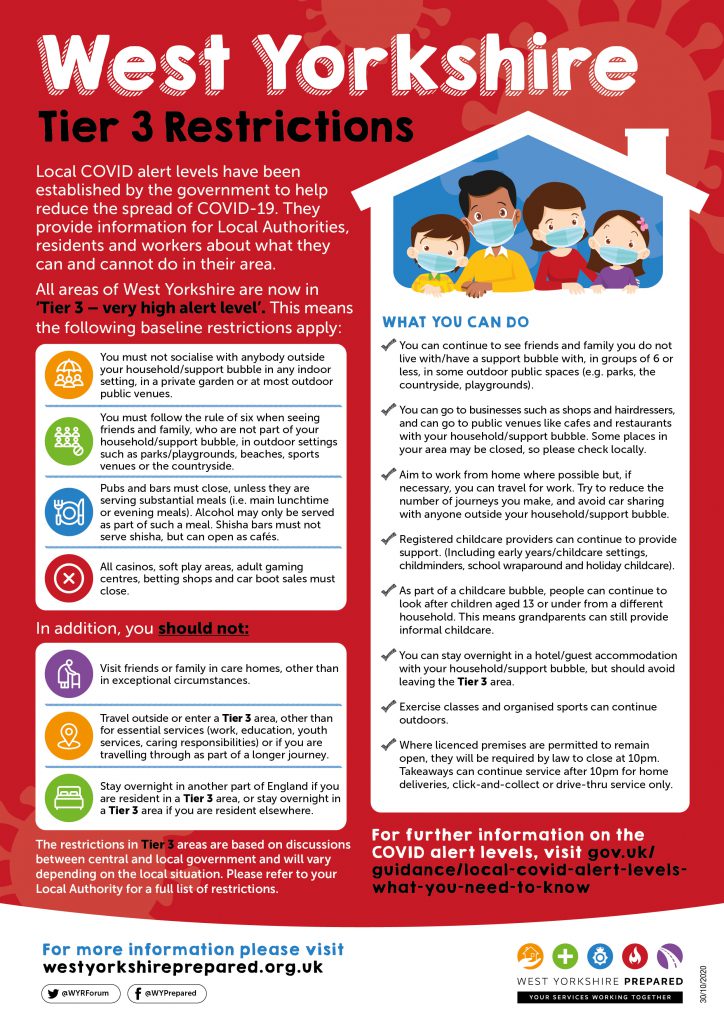 You must not socialise with anybody outside your household/support bubble in any indoor setting, in a private garden or at most outdoor public venues.
You must follow the rule of six when seeing friends and family, who are not part of your household/support bubble, in outdoor settings such as parks/playgrounds, beaches, sports venues or the countryside.
You should not travel outside the Tier 3 area, other than for essential services (work, education, youth services, caring responsibilities) and should not stay overnight in another part of England.
All pubs and bars must close unless they are serving substantial meals, such as a main lunchtime or evening meal. They can only serve alcohol as part of a meal.
It is also advised people should not visit friends or family in care homes, other than in exceptional circumstances.
As has already been widely reported, seasonal celebrations such as Halloween, Bonfire Night, Remembrance Day and Diwali are going to look very different this year, with many public events cancelled and social distancing restrictions affecting activities such as Trick or Treating. Although disappointing for many, these decisions have been made for the safety and wellbeing of the people of West Yorkshire.
Dave Walton, co-Chair of West Yorkshire Prepared and Deputy Chief Fire Officer for West Yorkshire Fire and Rescue, said: "Everyone needs to remember to follow the basics of social distancing, wearing a mask when required and good hand hygiene. In addition, you should be limiting the contact you have with people outside your own household or support bubble, avoid crowds and going to places that are not COVID-19 secure. If it's necessary to meet with others, you should ideally meet outdoors where practical as fresh air provides better ventilation.
"And we cannot stress enough how important it is to self-isolate if you show any symptoms of the virus, have received a positive test result or have been told to isolate by Track and Trace. This really is one of the most effective ways to reduce transmission and keep each other safe."
As a reminder, the basic actions everyone can do to help prevent the spread are:
At all times maintain social distancing from people you do not live with or who aren't in your support bubble. You do not need to socially distance from someone you're in an established relationship with.
Wear a face covering (unless exempt) over your nose and mouth in public places and where you can't effectively social distance from others.
Continue to wash your hands thoroughly with soap and water regularly throughout the day. Hand sanitiser can be used when soap and water is not available.
To keep up to date with West Yorkshire Prepared, please visit westyorkshireprepared.org.uk or follow us on Facebook (@WYPrepared) or Twitter (@WYRForum).
For reliable, up to date information on Covid-19, please visit www.gov.uk/coronavirus or www.nhs.uk/coronavirus.