'Let's Keep West Yorkshire Going' by following three simple asks – urges leading partnerships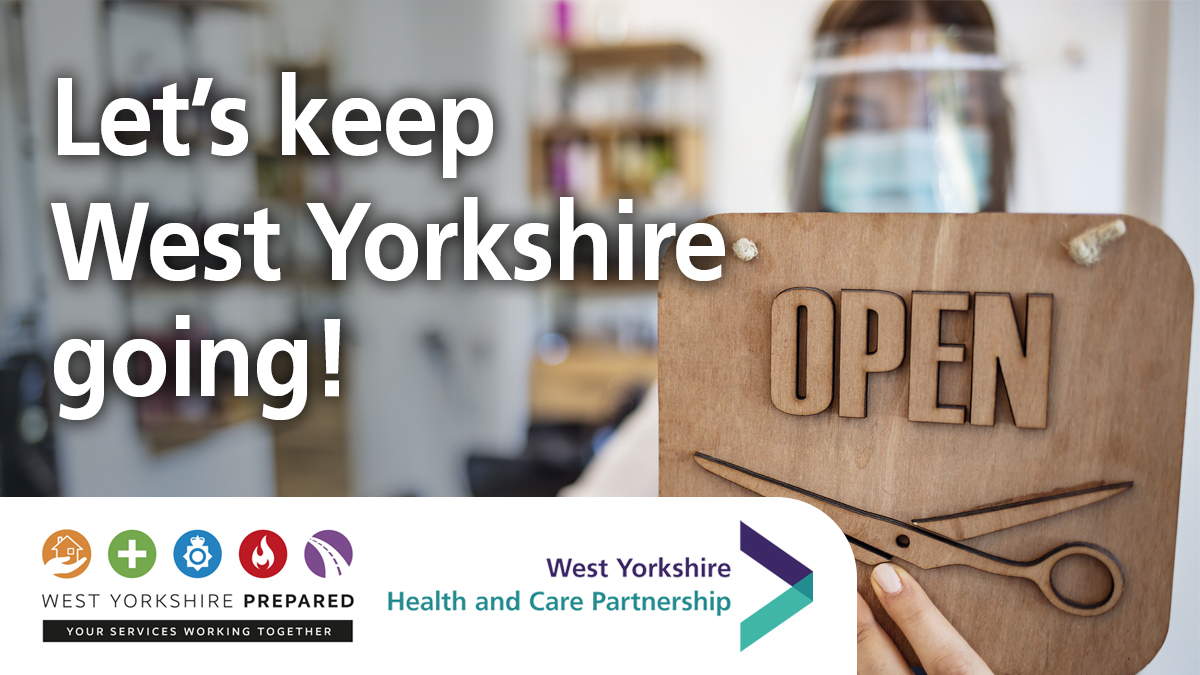 In response to the Omicron surge, West Yorkshire Health and Care Partnership (WY HCP) and West Yorkshire Prepared, the region's Local Resilience Forum (LRF), have joined forces to launch 'Let's Keep West Yorkshire Going', a new campaign to encourage people to follow three simple asks to keep services open.
The #KeepWYGoing campaign aims to remind West Yorkshire people of three simple actions they can take, which could make a positive impact on how the area copes with and responds to the ongoing pandemic.
Like other waves, the Omicron surge is having a significant impact on West Yorkshire. As well as the risk to people's health, there are increasing pressures on public services, business, industry, retail, hospitality, and the economy with high infection rates leading to significant staff shortages impacting on service delivery and the area's economy.
The campaign poses three very simple asks:
Get vaccinated
Wear a face covering
Work from home if you can.
Rob Webster CBE, CEO-Designate for WY HCP, said: "While the omicron variant has been reported as less severe for many people, we know it's having a significant impact on our day to day lives. More people are infected, leading to periods of staff sickness with an inevitable knock-on effect on all we do. It is imperative for people to follow the very simple measures already in place, such as wearing a face covering or getting vaccinated, if we want to keep West Yorkshire going."
Deb Harkins, Public Health Director for Calderdale and LRF member said: "We have all been living through this pandemic for a very long time and understand the fatigue people feel when hearing about COVID. However, if we want to enjoy the things in life we love, we must all continue to work together to reduce the spread and limit the effect on our lives. The impact of omicron is big. The things we can all do are small."
Sarah Muckle, Public Health Director for Bradford City Council and member of WY HCP Sector Leads, said: "The campaign is a reminder to us all should we need one that COVID hasn't gone away. By following three asks together we can prevent the spread of the virus and staff absence and continue to do the things which make us happy, for example going to the gym, the hairdressers, shops or a restaurant."
Dave Walton, Deputy Chief Fire Officer for WYFRS and co-Chair of West Yorkshire Prepared, said: "We have seen our partners and the public work together since the outset of the pandemic. We've all worked through some really tough times and need to continue to do so for a while longer to ensure we don't lose the progress we've made. Some simple steps can make a huge difference to the next few weeks."
As well as the campaign, NHS, councils, community, and voluntary teams will be continuing to be out and about in local communities engaging with people, answering questions, and offering advice where needed.
You can help keep West Yorkshire going by spreading the campaign messages by searching for #KeepWYGoing or following West Yorkshire Prepared on Facebook (@WYPrepared) or Twitter (@WYRForum), and West Yorkshire Health and Care Partnership on Twitter (@WYpartnership). You can also download free assets to use at https://bit.ly/3FEXS8D
For reliable, up to date information on Covid-19, please visit www.gov.uk/coronavirus or www.nhs.uk/coronavirus. For news and information from West Yorkshire Prepared, visit www.westyorkshireprepared.org.uk. For the latest from WY HCP, visit www.wyhpartnership.co.uk.