Date set for UK-wide Emergency Alerts test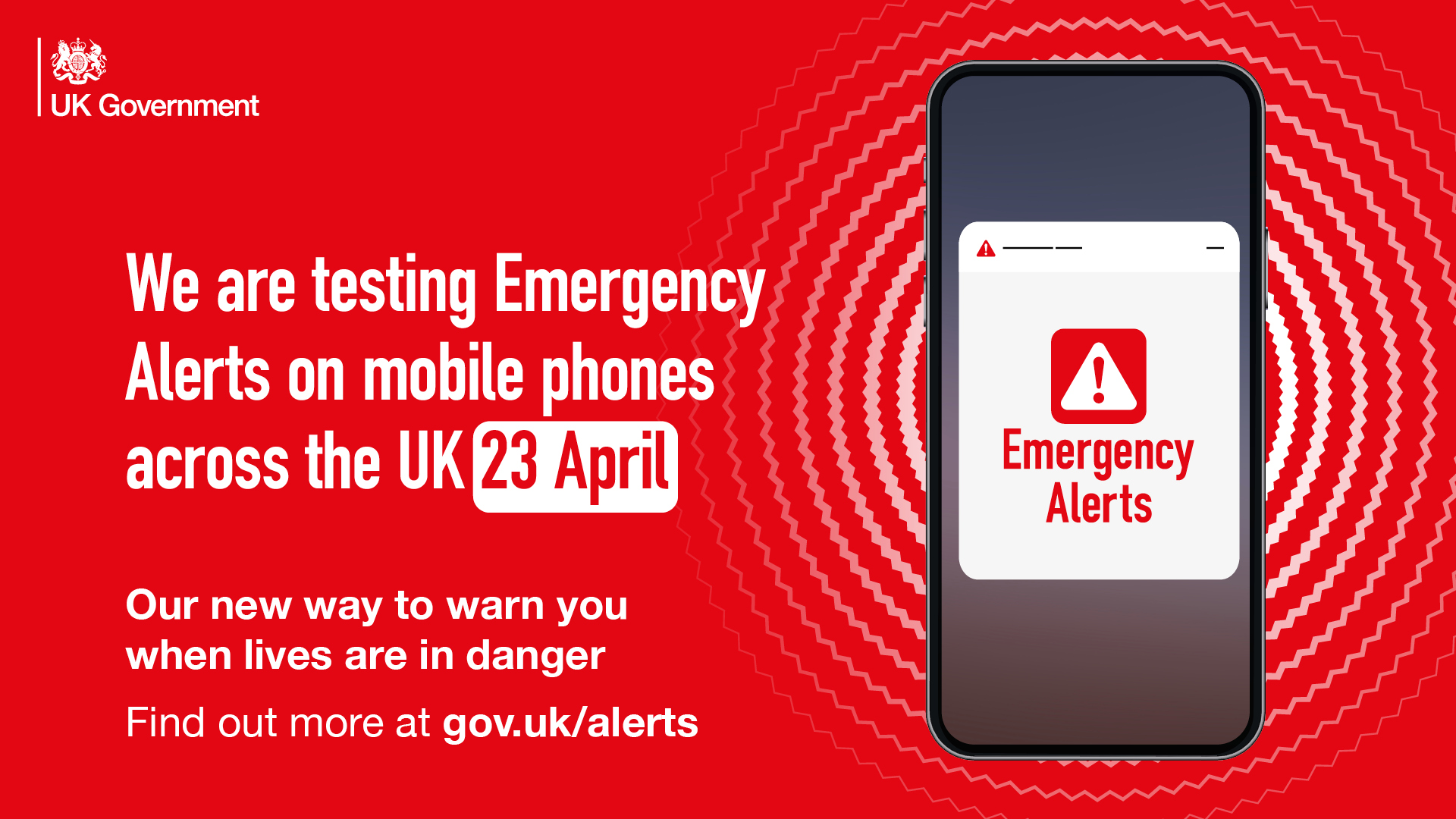 Following the announcement of a new UK Emergency Alerts system, a country-wide test will take place at 3pm on Sunday 23rd April, which will see an alert sent to all compatible mobile phones.
The system, which went live in March, will enable people to be notified immediately and directly via a message to their mobile phone if lives or health are at risk in an emergency. This could be for incidents such as severe flooding, wildfires or extreme weather, either locally or nationally.
Dave Walton, Deputy Chief Fire Officer at WYFRS and co-Chair of West Yorkshire Prepared, the region's Local Resilience Forum, said: "The new alerts system will be hugely beneficial to emergency responders in West Yorkshire during major incidents and emergencies, as it will enable us to get messages out quickly and directly to those who are most likely to be affected.
"In emergency situations, time is of the essence so the quicker we can alert people to any hazards or dangers they may be facing, the better. Systems like this have been used to great effect in other countries for a number of years and have undoubtedly helped save countless lives."
For those who don't currently have a mobile phone or compatible device, usual forms of communication will continue to be used by the emergency services, such as local news, radio and social media.
Emergency Alerts will look and sound very different from any other alert or notification. There will be a loud, siren-like sound and the phone will use a distinct vibration. A message will appear on the screen with information about the emergency and how best to respond. Recipients will be able to check an alert is genuine by visiting www.gov.uk/alerts.
The alerts won't track a person's location or collect personal data. Only the government and the emergency services will be able to send them and the likelihood of receiving a message in any given year is low. The most frequent use is expected to be for flooding.
It is strongly recommended that people do not turn off the alerts service, as it will warn when lives are in danger. However, if absolutely necessary, it is possible to opt out of receiving emergency alerts. More information can be found at www.gov.uk/alerts/how-alerts-work. Refuge, the largest specialist domestic abuse organisation in the UK, has also put together a useful video explaining how to manage the emergency alerts settings on both Android and iPhone devices.
Further advice on the new Emergency Alerts system is available in the Emergency Alerts factsheet.
West Yorkshire Local Resilience Forum (LRF) – also known as West Yorkshire Prepared – is a multi-agency partnership, working to identify, plan and prepare for major civil emergencies, to ensure the region is better prepared to cope with potential risks and able to recover following a major incident.
For more news and information from West Yorkshire Prepared, follow us on Facebook or Twitter.